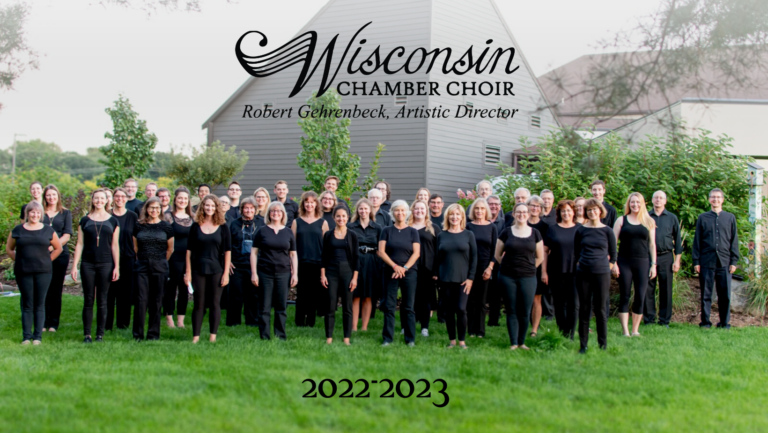 Robert Gehrenbeck, Artistic Director
Mark Brampton-Smith, Keyboards
Linda Palmer, Assistant Director 
Wisconsin Chamber Choir, Inc. (the Corporation) is created and shall be operated exclusively to uphold superlative musical performance standards, to promote healthy vocal technique, to promote cultural enhancement and artistic appreciation for music in various languages and from many countries, to encourage community interaction, outreach and service, and to promote choral music education for audiences and singers with a broad range of musical samplings from the historic beginnings of choral music to contemporary works, including commissioned pieces, and at all times shall operate consistent with the requirements of 501(c)(3) of the Internal Revenue Code of 1986. 
A rich history of acclaim:
2019: We celebrate our 20th Anniversary with our favorite music including the Bach Christmas Oratorio in December, and our April concert featuring our founding director, Dr. Gary McKercher.
2018: WCC commissions Alleluia by Juilliard composer, Wayne Oquin. World premiere occurs April 13, 2018. Tenth anniversary year for Artistic Director, Bob Gehrenbeck. The choir performs its first Milwaukee concert.
2017: WCC performs Bach's Magnificat and Handel's Utrecht Te Deum at Luther Memorial Church and as part of the Young Auditorium (Whitewater) Concert Series. Accompanied by Sinfonia Sacra, our professional orchestra.
2015 & 2016: World Premieres of choral pieces by contemporary composer Peter Bloesch.
2014: In collaboration with Temple University, Philadelphia, PA., WCC commissions English composer, Giles Swayne, to write a piece for the choir entitled Our Orphan Souls for Baritone solo and choir. The piece premiered in April, 2015 with the choir's performance of the Brahms' Requiem accompanied by Sinfonia Sacra.
2013: WCC performs Mozart's Requiem at Luther Memorial in Madison and the Young Auditorium in Whitewater.
2012: WCC performs composer Judith Shatin's world premiere, The Glory of God.
2011: WCC performs Haydn's Creation at the historic Madison Masonic Center.
2010: WCC premiers composer Stephen Chatman's Nature's Cry. WCC also performs Bach's St. John Passion on period instruments. This was the first performance of this genre in Madison, Wisconsin.
2009: WCC performs at the historic Richland County Performing Arts Center Auditorium.
2007: WCC leads sing-along caroling with Samuel Hutchison, Principal Organist and Curator of the Madison Symphony Orchestra at Madison's Overture Center
2007: WCC appears as a featured ensemble at the Wisconsin Choral Director's Association (WCDA) convention in Madison at Bethel Lutheran Church.
2006: WCC premiers Now Show Us Your Rainbow, a commission from Atlanta-based composer Ethan Amir Zaheri commemorating the victims of the December 2004 Asian tsunami.
2004: WCC performs at the gala opening celebration of the Overture Center for the Arts in Madison, Wisconsin.
2003: Wisconsin Newspapers staff writer Tom Alesias chose WCC's December performance of J.S. Bach's Christmas Oratorio one of the top twenty concerts of 2003 and Wisconsin Newspapers music critic, Jake Stockinger, chose WCC's recording of J.S. Bach's Christmas Oratorio the top ten CDs of the year.
2002: WCC tours the mid-west and is the only Wisconsin choir to perform in Rochester, Minnesota's "A Festival of Music" and in New Hampton, Iowa's Carnegie Cultural Center.
2002: WCC commissions Cincinnati composer Howard Helvey to create new choral works on the poetry of nineteenth-century New England transcendentalist poet Jones Very. The pieces, The Stranger's Gift and The Silent  were premiered at the Frank Lloyd Wright's Landmark Auditorium of the First Unitarian Society.
2001: WCC pays tribute to the victims of September 11, 2001 terrorist attack in a concert at the Madison Civic Center and Wisconsin Public Radio's Sunday Afternoon "Live at the Elvehjem" series selects WCC to perform on their live statewide radio broadcast form UW-Madison.
2000: WCC performs at the Wisconsin Choral Directors Association's (WCDA) annual convention in Appleton, Wisconsin.