Concert repertoire from December, 2008 through May, 2018. For the list from December 1998 – May, 2008: Programs – 1st decade.
2008 – 2009 Season
12/13/08 Gloria in Excelsis
Trinity Lutheran Church
Plaudite a 12 G. Gabrieli
Also hat Gott die Welt geliebt Schütz
Gloria in excelsis a 12 G. Gabrieli
O lieber Herre Gott Schütz
Hodie Christus natus est a 10 G. Gabrieli
from All Night Vigil Rachmaninoff
6. Bogoroditse Devo
7. Slava v vyshnikh Bogu
8. Khvalite imia Gospodne
Prague Te Deum 1989 Eben
There is No Rose Swayne North American Premiere
Ave Maria Oquin
from Three Villancicos Letelier
1. En los brazos de luna
3. Llegaos pastorcitos
Mary Had a Baby arr. Scandrett
Glory to God Smith Moore
Rise Up Shepherd arr. Scandrett
Sing, Hevin Imperial Paulus
04/19/09 The Richland Center Concert Association
Richland Center, Wisconsin
Selections from the spring season ("Voice of Joy" program below)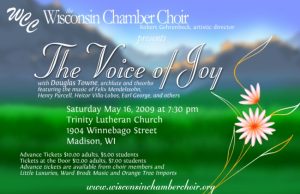 05/16/09 The Voice of Joy
Trinity Lutheran Church
O God, Thou Art My God Purcell
Remember Not, Lord, Our Offences Purcell
Psalm 114 Caamaño
Pater Noster Villa-Lobos
Richte mich, Gott Mendelssohn
Jubilate Deo Mendelssohn
I Was Glad Purcell
Lost is My Quiet For Ever Purcell
Sound the Trumpet Purcell
Let Us Wander Not Unseen Purcell
Six Songs To Be Sung Out of Doors, op 59 Mendelssohn
1. The Woods
2. Early Spring
3. Departure
4. The Nightingale
5. The Vale of Rest
6. The Hunting Song
El gato de mi casa Russo
Viva la cueca arr. Mansilla
2009 – 2010 Season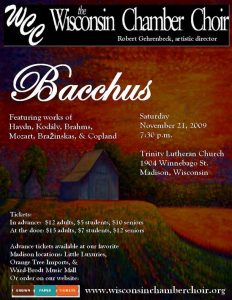 11/21/09 Bacchus
Trinity Lutheran Church
Stimmt an die Saiten from Die Schöpfung Haydn
Wo der perlende Wein, K. 347 Mozart
Die Harmonie in der Ehe Haydn
Nichts labt mich mehr als Wein, K. 233 Mozart
Matra Pictures Kodaly
1. The Famous Herd of Vidroczki
2. I Must Leave My Home Now
3. Dear Bird, with Your Singing
4. In the Meadows
5. Hey, There, My Speckled Hens
Juhe, Juhe, der Wein ist da (from Die Jahreszeiten) Haydn
Fünf Gesänge Brahms
1. Nachtwache I
2. Nachtwache II
3. Letstes Glück
4. Verlorne Jugend
5. Im Herbst
The Inn Brazinskas
Herbstlied Mendelssohn
Selections from The Tender Land Copland
The Promise of Living
Stomp Your Foot
04/02/10 Johannes Passion J.S. Bach
(Wisconsin premiere with original instruments)
First Unitarian Society Atrium Auditorium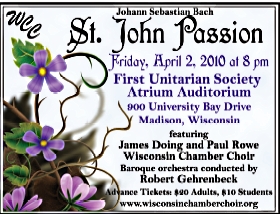 06/05/10 Broadway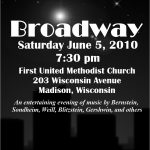 First United Methodist Church
Stairway to Paradise Gershwin arr. Page
Sing of Spring Gershwin
Lida Rose Willson
Johnny Song Weill
Music of Home Loesser
Green Finch and Linnet Bird Sondheim
Remember Sondheim arr. Page
Marry Me a Little Sondheim
On the Steps of the Palace Sondheim
Children Will Listen Sondheim
Comedy Tonight Sondheim arr. Page
I'm All Alone Du Prez/Idle
Meadowlark Schwartz
Ohio Bernstein
Life is Happiness Indeed Bernstein
It Must Be So Bernstein arr. Page
The Best of All Possible Worlds Bernstein arr. Page
Glitter and Be Gay Bernstein
This World (Candide's Lament) Bernstein arr. Page
Make Our Garden Grow Bernstein arr. Page
2010 – 2011 Season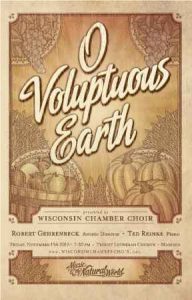 11/19/10 O Voluptuous Earth
Trinity Lutheran Church
An Anthem, for Thanksgiving
Billings
Appalachian Round Blow
Evening Ives
The New River Ives
There Rolls the Deep Parry
Der Abend Brahms
The World is Too Much with Us Mechem
Nature's Cry Chatman World Premiere
Smile, O Voluptuous, Cool-Breathed Earth Raminsh
September Stenhammar
In the Garden of the Seraglio Stenhammar
Von alten Liebesliedern, Op. 62/2 Brahms
Waldesnacht Op 62/3 Brahms
September Ives
Yellow Leaves Ives
Thoreau Ives
Sand County Belmont Ford
1. Sand County
2. Draba
3. Wild Things
03/05/11 Aldo Leopold Weekend UW-Madison Arboretum
Sand County Belmont Ford
04/02/11 The Creation Haydn
with Stoughton Chamber Choir and Sinfonia Sacra
Madison Masonic Center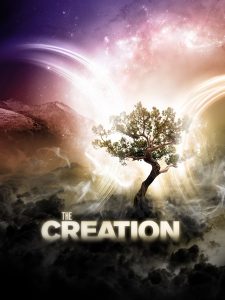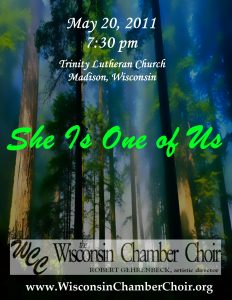 05/20/11 She Is One of Us Trinity Lutheran Church
Hanaq pachap kusikuynin anonymous 17th century Peruvian
Three Maori Songs McLeod North American premiere
Nau te Hau
Kia hora te marino
E Te Ariki
Native American Songs transcribed by Ballard
Bear Dance Song
Elk Dance Song
Bird Dance Songs
from In Nature Dvorak
Songs Filled My Heart
When Evening Comes Chimes Fill the Forest
Golden Harvest
Up Sprang a Birch Tree Overnight
Now Here's a Day for Joyful Singing
Now I Walk In Beauty Smith
Sky Loom Belmont Ford
Sioux Ghost Dance Song arr. Ballard
She Is One of Us Davids
Eagle Poem Brunner
2011 – 2012 Season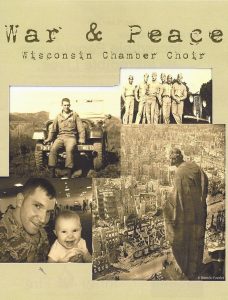 11/18/11 War & Peace
Trinity Lutheran Church
Verleih uns Frieden Schütz
Jubilate Deo Lully
Beat! Beat! Drums! Hanson
O, For Such a Dream Hagen
He Is There Ives
Troix beaux oiseaux du Paradis Ravel
Psalm 90 Ives
Let God Arise Howells
They Are There Ives
Wie liegt die Stadt so wüst Mauersberger
Hiroshima-ni-kakeru-no Niji NiimiLast Letter Home Hoiby
Dona nobis pacem (from B-Minor Mass) J. S. Bach
03/23/12 Duruflé Requiem
First Congregational Church
Four Motets in Time of Penitence Poulenc
1. Ti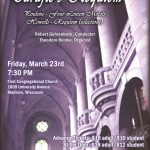 mor et tremor
2. Vinea mea electa
3. Tenebrae factae sunt
4. Tristis est anima mea
from Requiem Howells
Psalm 23
Psalm 121
Requiem aeternam
Requiem Duruflé (version for choir and organ, with percussion added)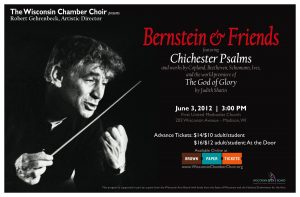 06/03/12 Bernstein & Friends
First United Methodist Church
From Mass Bernstein
Warm-up
Almighty Father
Hashkiveinu (1945) Bernstein
The God of Glory (world premiere) Shatin
Chichester Psalms Bernstein
Elegy, Op. 188 Beethoven
Schön-Rohtraut, Op. 67, No. 2 Schumann
Der traurige Jäger, Op. 75, No. 3 Schumann
An die Sterne, Op. 141, No. 1 Schumann
Serenade Ives
There is a Lane Ives, arr. Haufrecht
Is That You, Mr. Riley? Rooney
The Side Show Ives, arr. Haufrecht
From Old American Songs Copland
Boatmen's Dance
The Dodger
Little Horses
Ching A Ring Chaw
2012 – 2013 Season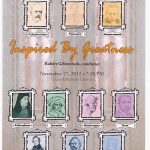 11/17/12 Inspired By Greatness
Grace Episcopal Church
Omnis terra (plainchant)
Kyrie (from Missa Mi-mi) Ockeghem
Gloria (from Missa D'ung aultre amer) Josquin des Prez
Ave Maria – Virgo Serena Josquin des Prez
Nymphes des Bois (La deploration de la mort de Johannes Ockeghem) Josquin des Prez
Cherubic Hymn, op. 41/6 Tchaikovsky
Stars, op. 27/10 Taneyev
Selections from All-Night Vigil Rachmaninoff
1. Come, Let Us Worship
9. Blessed Art Thour, O Lord
Thou Didst Rise from the Tomb (Znamenny chant only)
15. To Thee, Victorious Leader
Die Nacht, op. 22/2 Herzogenberg
Tamburinschlägerin, op. 69/1 Schumann
Klosterfräulein, op. 69/3 Schumann
O schöne Nacht, op. 92/1 Brahms
Die Rose stand im Thau, op. 65/1 Schumann
Wie schön, hier zu verträumen, op. 22/4 Herzogenberg
Let Us Cheer the Weary Traveler Dett
Go Down, Moses Hailstork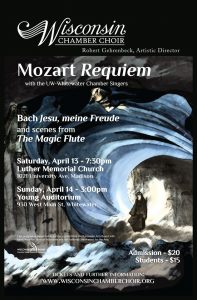 04/13/13 Mozart Requiem
Luther Memorial Church
04/14/13 Mozart Requiem
Young Auditorium, Whitewater
Ave verum corpus Mozart
Scenes from Die Zauberflöte K. 620 Mozart
Jesu, meine Freude, BWV 227 Bach
Requiem, K. 618 completed by F. X. Süssmayr;
orchestrated by Franz Beyer; edited by Robert Gehrenbeck
performed with UW-Whitewater Chamber Singers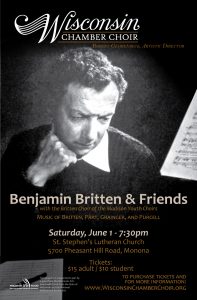 06/12/13 Benjamin Britten & Friends
St. Stephen's Lutheran Church
Monona, Wisconsin

Jubilate Deo, Z. 230 Purcell
Lord, How Long Wilt Thou Be Angry? Z.25 Purcell
Antiphon Britten
The Beatitudes Pärt
Rejoice in the Lamb Britten
performed by Britten Choir of Madison Youth Choirs:
Wir eilen mit schwachen doch emsigen Schritten, BWV 78/2 Bach
Bist du bei mir, BMV 508 Stözel
Fishing Song Britten
This Little Babe Britten
Wisconsin Chamber Choir:The Evening Primrose Bridge
Peter Piper Bridge
I'm Seventeen Come Sunday arr. Grainger
Brigg Fair arr. Grainger
Five Flower Songs Britten
To Daffodils
The Succession of the Four Sweet Months
Marsh Flowers
The Evening Primrose
Ballad of Green Broom
2013 – 2014 Season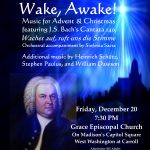 12/20/13 Wake, Awake!
Music for Advent and Christmas
Grace Episcopal Church
Machet die Tore weit Hammerschmidt
Sehet, welch eine Liebe Homilius
Tröstet, tröstet mein Volk Schütz
Wachet auf, ruft uns die Stimme, BWV 140 Bach
Hodie Christus Natus Est Aston
O Magnum Mysterium Oquin
The Shepherds Sing Susa
The Virgin's Cradle Hymn Rubbra
A Babe Is Born Mathias
A Savior From On High Paulus
How Far Is It to Bethlehem? Paulus
Christmas Eve Carol Paulus
Hail Mary Dawson
Go, Tell It on the Mountain arr. Barnett
03/29/14 Spring Concert (original title: "Back in the USSR")
Grace Episcopal Church
Slava Ottsu…Yedinorodniy Sine (from Divine Liturgy) Rachmaninoff
Blazhen muzh (from All-Night Vigil) Rachmaninoff
Kyrie Grechaninov
The Cherubic Hymn Grechaninov
O presladkiy i vseshchedriy lisuse! Chesnokov
Hvalite imia Ghospodhie Chesnokov
Chertog Tvoy Grechaninov

Milost mira Grechaninov
Hayr mer Yekmalian
Pater Noster Miškinis
Pater Noster Vasks
Kolm Setu toolaulu Tormis
1. Pesupesemine
2. Ketramine
3. Sonnikulaotamine
Doluri Matchavariani
Back in the USSR Lennon & McCartney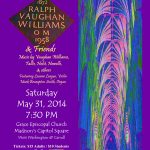 05/31/14 Vaughan Williams & Friends
Grace Episcopal Church
A Choral Flourish Vaughan Williams
Mihi autem nimis Tallis
From Mass in G minor Vaughan Williams
1. Kyrie
2. Gloria
A Hymn to Christ Imogen Holst
Jubilate Howells
When Thou, O Lord, Shalt Stand Disclosed Tallis
Lord Thou hast been our refuge Vaughan Williams
from Five English Folksongs Vaughan Williams
1. The Dark Eyed Sailor
2. The Springtime of the Year
3. Just As the Tide Was Flowing
Serenade to Music Vaughan Williams
from Creatures Maconchy
Cat's Funeral
The Hen and the Carp
My Sweetheart's like Venus Gustav Holst
I Love My Love Gustav Holst
The Song of the Blacksmith Gustav Holst
2014 – 2015 Season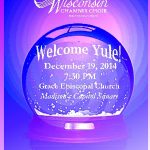 12/19/14 Welcome Yule!
Grace Epsiscopal Church
Canite tuba in Sion Palestrina
Ecce virgo concipiet Byrd
O nata lux Tallis
Facta est cum angelo Aleotti
Gaudete 16th century Bohemian
Lullay: I Saw 15th century English
Nowell – Out of Your Sleep 15th century English
A Ceremony of Carols Britten
The Ship Carol Paulus
Ave dulcissima Maria Belmont Ford
The Angel Gabriel Carney
Ave Maria Oquin
Magnificat and Nunc Dimittis (Dallas Canticles) Howells
Silent Night arr. Ivo Antognini
Amuworo ayi otu nwa Omyeji
Who Is the Baby? Powell0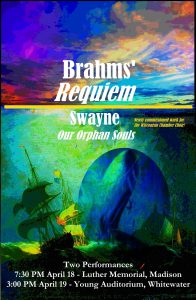 4/18/15 Brahms Requiem
Luther Memorial Church
04/19/15 Brahms Requiem
Young Auditorium
Whitewater, Wiscosnin
Prairie Spring Ellenwood
(Performed by UW-Whitewater Chamber Singers)
Our Orphan Souls Swayne
(World premiere; commissioned by the Wisconsin Chamber Choir)
Ein deutsches Requiem Brahms with UW-Whitewater Chamber Singers
05/15 Oakwood Village
Selections from season's repertoire
2015 – 2016 Season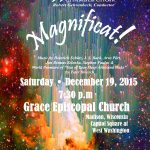 12/19/15 Magnificat
Grace Episcopal Church
Machet die Tore weit Homilius
Übers Gebrig Maria geht Eccard
Meine Seele erhebt den Herren (Deutsches Magnificat ) Schütz
Selections from Magnificat BWV 243a Bach:
Von Himmel hoch da komm ich her
Freut euch und jubiliert
Gloria in Excelsis Deo
Magnificat octavi toni Kindermann
Magnificat in D Zelenka
Bogoroditse Devo Pärt
Dostoyno yest Sviridov
Velichit dusha moya Ghospoda Cui
Magnificat and Nunc Dimittis for Gloucester Cathedral Howells
Out of Your Sleep, Arise and Wake Bloesch World Premiere
Snow Had Fallen; Christ Was Born Paulus
We Three Kings of Orient Are Hopkins arr. Paulus
Ding Dong, Merrily on High arr. Bloesch
04/15/16 Songs In A New Land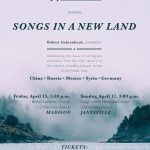 Bethel Lutheran Church
04/17/16 Cargill United Methodist Church
Janesville, Wisconsin
Ave Maria Stravinsky
Domine, convertere Lasso
Stabat Mater Josquin des Prez
Credo (from Mass) Stravinsky
Kiddush Weill
Lux Aeterna Sierra
Demos Gracias al Senor Golijov
Agnus Dei (from Mass) Stravinsky
Coal for Mike Eisler
Verbundenheit Schoenberg
My Heart Forever Faithful Schoenberg
from A Set of Chinese Folk Songs, vol. 2 Chen Yi
1. Mayila
2. Mo Li Hua
3. Gan Sheng Ling
from Hot Tea, Mint and Olives Roustom (conducted by Linda Palmer)
Tea Invitation
Alphabets of Life
Chanflin arr. Guzman
La Petenera arr. Sanchez-Gutierrez
Fiesta Grases
05/16 Oakwood Village
Selections from season's repertoire plus
Schein uns, du liebe Sonne Schoenberg
2016 – 2017 Season
12/17/16 O Wondrous Mystery
Bethel Lutheran Church
Laetentur Coeli Byrd
Mirabile Mysterium Handl
Ne timeas Maria Victoria
O Magnum Mysterium Victoria
O Lieber Herre Gott SWV 381 Schütz
O Heiland reiss die Himmel auf Brahms
Ach, Herr, du Schöpfer aller Ding Schütz
Quatre Motets pour le temps de Noel Poulenc
1. O Magnum Mysterium
2. Quem vidistis pastores dicite
3. Videntes stellam
4. Hodie Christus Natus Est
Les Anges dans nos campagnes Chilcott
Magnificat and Nunc Dimittis for Winchester Cathedral Howells
Dans les ombres de la nuit Mathews
Chantez Noel Mathews
What Sweeter Music Chilcott
There is No Rose of Such Virtue Bloesch
Me Thinks I See a Heavenly Host Bloesch World Premiere
Where Riches are Everlastingly Chilcott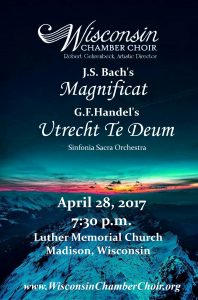 04/28/17 Bach Magnificat
Luther Memorial Church
04/30/17 Bach Magnificat
Young Auditorium
Whitewater, Wisconsin
Nun danket alle Gott, SWV 418 SchützFürchte dich nicht Bach
Utrecht Te Deum Handel
Magnificat in D, BWV 243 Bach 5/17 Oakwood Village selections from the past season's repertoire plusSicut cervus PalestrinaAlleluia R. Thompson
2017 – 2018 Season
12/16/17 Peace On Earth
First Unitarian Society Atrium
Gaudeamus omnes Byrd
Da p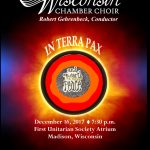 acem, Domine Gesualdo
Verleih uns Frieden Mendelssohn
Virga Jesse Bruckner
Ein Kind ist uns geboren Schütz
Gloria from Mass in A major, BWV 234 Bach
In Terra Pax Finzi
Nowell Sing We Jackson
Cry Peace Larsen
Winter Solstice Carol Swayne
The Prince of Peace Nelson
The Snow Lay on the Ground arr. D. Gehrenbeck
Silent Night arr. Bloesch
Behold The Star Dawson
The Virgin Mary Had a Baby Boy arr. Burton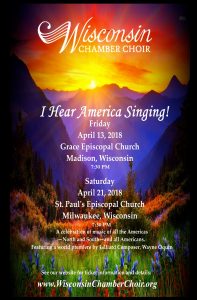 04/12/18 I Hear America Singing
Grace Episcopal Church
04/24/18 I Hear America Singing
St. Paul Episcopal Church
Milwaukee, Wisconsin
Solfa de Pedro Sumaya
Northfield Ingalls
God Is Seen arr. Parker
Psalm 84 Parry
Psalm 67 Ives
Psalm 23 McFerrin
Alleluia Oquin (world premiere, commissioned by WCC)
I Hear America Singing Oquin
Shenandoah arr. Lee; performed by UW-Whitewater Chamber Singers
The Bird and the Hour Chatman
Reincarnations Barber
1. Mary Hynes
2. Anthony O'Daly
3. The Coolin
Introduccion al angel Piazzola arr. Zentner
From Native American Suite Davids
2. I Still Love You Yet
3. Zuni Sunrise Song
St. Louis Blues Handy arr. Johnson
In Dat Great Giddin' Up Mo'nin' arr. Powell
5/18 Oakwood Village selections from "I Hear America Singing"
2018 -2019 Season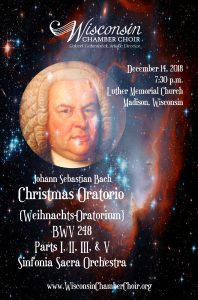 December 14, 2018 7:30 p.m.
Luther Memorial Church
December 16, 2018 3:00 p.m.
Young Auditorium
Whitewater, Wisconsin
Christmas Oratorio J.S. Bach
Saturday, April 13, 2019 7:30 p.m.
First Unitarian Society Atrium Auditorium
20 Years Retrospective Concert
The Best of the Wisconsin Chamber Choir 1999 – 2019
Richte mich, Gott / Felix Mendelssohn
Bea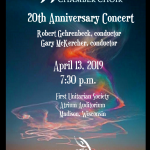 ti quorum via / Charles Stanford
4. Svete tihy (Gladsome Light) / Sergei Rachmaninoff
7. Slava v vishnih Bogu ( "Six Psalms") / Sergei Rachmaninoff
Psalm 150 / Robert Beaser
The Silent /Howard Helvey
The Stranger's Gift / Howard Helvey
Utyos / Albrecht Gaub
Sand County / Jean Belmont Ford
Draba / Jean Belmont Ford
Wild Things / Jean Belmont Ford
Magpie Chatter / Georgy Sviridov
Eloquence / Haydn
Now I Walk in Beauty / Gregg Smith
Conducted by Artistic Director Dr. Robert Gehrenbeck and guest conductor/founder of the Wisconsin Chamber Choir, Dr. Gary McKercher.